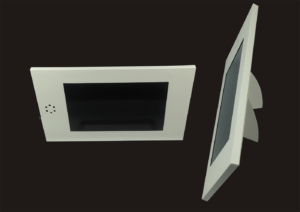 We take the word "POP"as a synonym for the fashional advertising tool.So POP Display is produced.
As a leading display solution campany,we produce and export AD Monitor,Media player,Digital photo frame a few years ago.But one day,one of our Japanese customers bring us the new idea for POP Display.For the traditional advertising player,we need to spend lots of time and money to open a new mould as a shell to assemble.If clients would like to custom,they could only seclec logo with a silk printing.How ever,since we use paper card as casing,we could printing by 4C offset,coud custom any size as you need.So cheap and amazing idea!So why not?Why not use Video card instead of general advertising player?
From then on,we works with POP Display in different ways.For example,we create a paper holder for desktop,we make a double metal hook for fixing in shelf.The most economic and evironmental way is that we can make a white blank display for recycling use,and then design a creative sleeve for printing.
Let`s get start and make your business more easier and creative.!
Accessories options&Package: