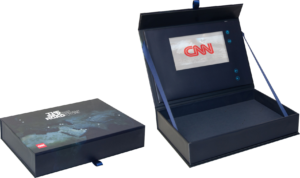 There are some very popular Video Brochure combinations. Our most popular combination is a A5 brochure with a 4.3″/5″/7″ high definition screen inside. It's our general and most economical card as well! But don't worry, you're not locked into any specific design, screen size or paper size.
Here is one example of the incredible solutions we have designed-Video Box. This is a gift box which insert videos for advertising.Due to an inbuilt magnetic switch in front closure,the video will automatically play once the box is opened and stop to play when close the box.Also,we can set a custom EVA foam in the box,which can be used to place a phone,cosmetics,dry red wines or other products for promotion and advertising tool.
There are no limits or restrictions to what we can manufacture. If you're looking for a custom solution we can design it for you,call or email us right now!